Tasty Bites in Monterey
5 Great Restaurants Right in Downtown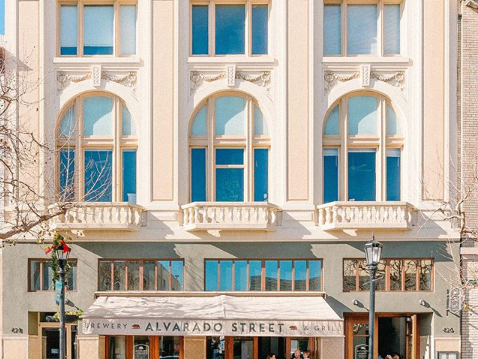 The Monterey Hotel is located right in the middle of downtown Monterey. The convenient location is one of the greatest benefits of staying with us at this hotel because there is so much to do within walking distance from your room! One of our favorite parts of traveling is getting to eat out and experience cuisine in a different city. There is no shortage of delicious restaurants right around the corner from The Monterey Hotel! Here are five of our favorite neighboring restaurants:
The Alvarado Street Brewery is a great place to go for a relaxed lunch, dinner, or drinks. They have a full menu of classic brewery food with a twist, notable options being their Everything Pretzel with Beer Cheese, Vietnamese Lamb Burger, and Pork Belly Pizza. They also have inclusive options like their vegan burger and mushroom pizza.
If you're just looking to grab a quick drink, head over to their beer garden, where you can choose from the 12 house beers they have on tap, and get comfortable next to a fire pit. Visit between 3 PM and 6 PM on weeknights for $7 pints. If you love your experience at their Monterey location, want to experience more Alvarado brewing and don't mind a drive, visit their production brewery in Salinas!
426 Alvarado St (1 minute walk, literally right next door)
Montrio Bistro: ($$$)
If you're in the mood for fancier fare, head to Montrio Bistro right across the street from The Monterey Hotel. Only open for dinner, they serve up options like Sustainable King Salmon, Organic Sweet Potato-Pecan Ravioli, and Duck Breast, among other delicious dishes. Entrees are served a la carte but there is a menu of sides that includes items like Brussels Sprouts and Spiced French Beans. The restaurant opens at 5 but the lounge opens at 4:30 so you can enjoy a drink from their extensive cocktail menu before dinner or just enjoy their happy hour!
414 Calle Principal (2 minute walk, right across the street)
Poke Lab: ($)
The Poke Lab is a great stop if you're looking for a lighter meal for lunch or an early-ish dinner. Their fresh poke bowls are served from their storefront every day from 11 AM - 3 PM. You can choose from one of their signature poke bowls, build your own, or get a sushi burrito! If you're craving a bowl and don't mind eating in your room, you can order online for delivery.
475 Alvarado St (2 minute walk)
Epsilon Fine Greek Restaurant: ($$)
Open for lunch and dinner, Epsilon Fine Greek Restaurant serves traditional Greek cuisine. They serve well-known dishes like Spanakopita, Kabobs, Gyros, and Hummus as well as more traditional Greek dishes. This highly authentic cuisine will transport you and make you feel like you're in Greece, even in the middle of downtown Monterey. This restaurant comes highly recommended by locals and won an Open Table Diner's Choice award in 2018.
422 Tyler St (2 minute walk)