Willamette Valley Breweries We Love
Enjoy Craft Beer from Local Breweries!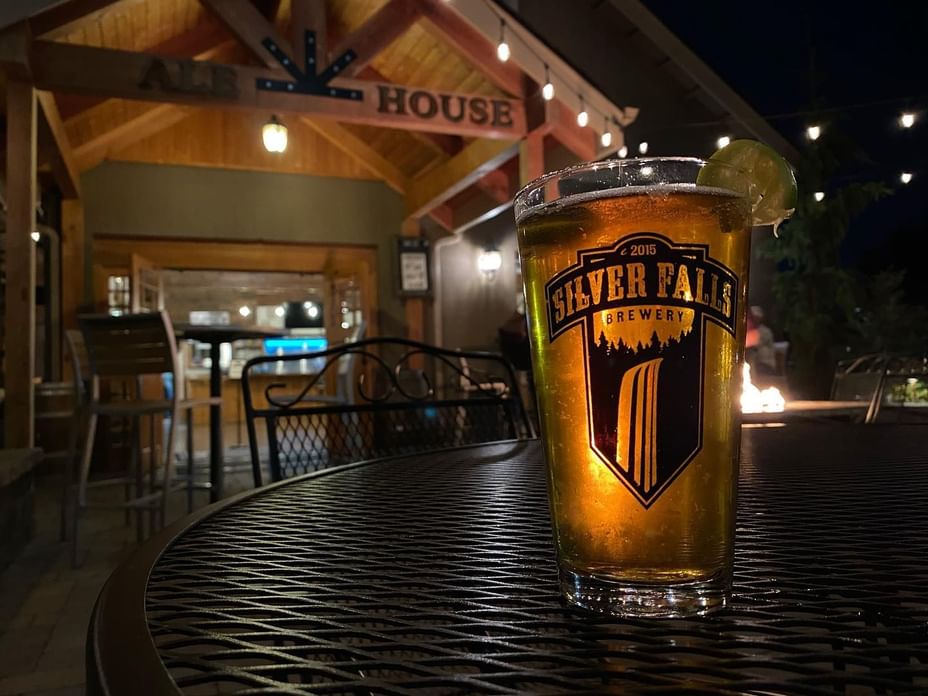 One of our properties, the Oregon Garden Resort, is located in the beautiful Willamette Valley in the historic town of Silverton, about an hour south of Portland. Our favorite part of traveling is getting to experience local breweries, and if you're traveling in Oregon, you're in luck! There is no shortage of amazing craft beer in Oregon, with many of them nearby the Oregon Garden Resort.
Here are five of our favorite local breweries:
Silver Falls Brewery: ($) - Silverton
During your stay at the Oregon Garden Resort, check out Silver Falls Brewery in Silverton. The Brewery specializes in small-batch craft ales and lagers. Try out their popular beers on tap such as the Oregon Sunshine Hazy IPA or their 1933 Pilsner. They also have a carefully curated selection of guest taps, featuring brews sometimes hard to find.
Their food menu extends from tasty treats like their pretzels and beer cheese, to full meals - a little something for everyone, even the young ones - including ice cream sandwiches. They also have a beautiful outdoor patio to enjoy when the weather is warm.
Enjoy handcrafted beers on tap, live music, gourmet food and events at Silver Falls Brewery!
Hours: Closed Tuesday
Mon, Wed, Thurs 11:30am-9pm
Fri, Sat 11:30am-10pm
Sun 11:30-8pm
Ratchet Brewery Silverton: ($) - Silverton
Ratchet Brewery is the newest brewery in Silverton, but don't let that fool you - they've had a Salem location for years, and are so popular that they've expanded! Kids (or kids at heart) will enjoy their game room and their patio is the perfect place to enjoy some sun - their huge fireplace will keep you warm on slightly chilly but beautiful days.
Pair your favorite Ratchet beer such as a Shake N Bake Pale or Grease Monkey Porter with their BBQ offerings - don't miss out on the mac!
Hours: Closed Monday
Tues-Thurs 3pm - 9pm
Fri 3pm - 10pm
Sat 11am - 10pm
Sun 11am - 9pm
Gilgamesh Brewing: ($) - Salem
Gilgamesh's beers are crafted and brewed in their state-of-the-art brew system in Salem. They use only the finest quality ingredients available and as locally sourced as possible. Their unique beers pair great with their restaurant menu. A favorite of ours: the Mamba, a lightly flavored and smooth brew along with the delicious crispy fried chickpeas tossed in their house harissa spice.
Hours: Closed Tues/Wed
Mon - Thurs 11am - 10pm
Fri, Sat 11am - 12am
Sun 11am - 9pm
Vagabond Brewing: ($) - Salem
Vagabond Brewing in Salem enjoys brewing bold and original recipes that borrow a small piece of the owner's travels abroad. This brewery features 10 beers on tap and two rotating ciders. Their beers include fun names such as an Attack Owl IPA or PDX Pride Ale, try them for yourself!
With an ever-changing roster of beers handmade by their brewers, there is guaranteed to be something for everyone. They also have games and live music regularly, and are a part of the Salem Ale Trail.
Hours:
M-Th 12pm - 10pm
Fri, Sat 12pm - 12am
Sun 12pm - 10pm
Salem Ale Works: ($$) - Salem
Salem Ale Works beers are handcrafted in small batches using as many fresh, local ingredients as possible. Their taproom features a full food menu, 14 taps featuring the latest brews and two guest ciders, plus wine by the glass. Enjoy food and drink in the taproom adjacent to the production area or grab a growler of beer to take back to the Resort and enjoy on your patio!
Salem Ale Works loves providing space for the community to come together over top-notch craft beer and food. This brewery comes highly recommended by locals and is a part of the Salem Ale Trail.
Hours: Closed Monday
Tues - Sat 11am – 10pm
Sun 11am – 8pm
*Due to COVID-19 some changes may have been made to these breweries hours. We suggest calling or visiting their website for updated information.