Pet-Friendly Trip to Cambria
Bring Fido to Our Favorite Pet-Approved Spots!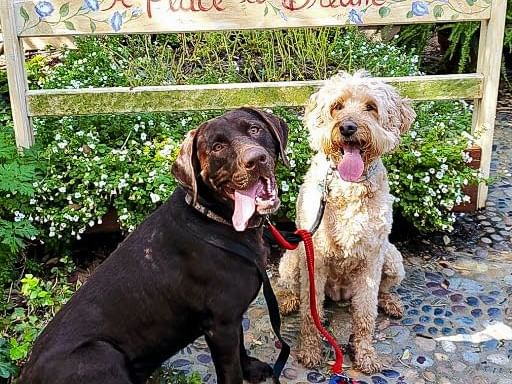 Traveling with Fido (or your fabulous feline) to the Central Coast? We've got your itinerary covered, from lodging to dining to spectacular sights, your furry pal is always welcome to tag along. Check out these amazing pet-approved spots in Cambria, California!
1. Lodging: Check out our pet-friendly hotels, where your furry family members are our guests too!
Sea Otter Inn: Sea Otter Inn is in a prime Central Coast location, only steps from Moonstone Beach and moments from attractions and outdoor activities to ensure an unforgettable experience. Sea Otter Inn is pleased to welcome dogs at their pet-friendly hotel. The Sea Otter Inn features five pet-friendly rooms and welcomes well-behaved animals for an additional $25 per night (limit two pets). Each furry friend will also receive a special treat in your complimentary breakfast basket, courtesy of Bring Fido! Please call the hotel directly at 805-927-5888 to book a pet-friendly room.
Cambria Pines Lodge: Nestled amid the magical landscape of Cambria, California, Cambria Pines Lodge provides a tranquil coastal getaway in a picturesque setting only minutes from Moonstone Beach and the Fiscalini Ranch Preserve. At Cambria Pines Lodge, your four-legged friends are considered family. They welcome dogs and cats in a variety of pet-friendly hotel rooms and suites, which can be booked only by phone at 1(800) 966-6490. Please note that they do not take pet reservations online. Your dog will love the smells and sounds of their forested grounds, gobble up the complimentary gourmet biscuit prepared in the kitchen and romp with abandon in our private on-property dog park. They even provide you with an extensive list of dog-friendly trails in and around Cambria and the Central California Coast plus referrals for pet sitters when you both want a little alone time.
2. Restaurants: California law allows pet dogs at outdoor dining venues. This means that your dog can join you during meals! Here are a few of our favorite pet-friendly restaurants. Be sure to visit their websites for more information about hours and menus.
Cambria Pines Lodge Restaurant: Located inside Cambria Pines Lodge, their restaurant has a casually elegant ambiance with several pet-friendly outdoor garden patio tables for the hotel's pet guests as well as folks staying at other properties in Cambria. Dinner entrees include steaks, seafood, pasta, vegetarian selections, and nightly specials, as well as an extensive wine list and fabulous desserts. Cambria Pines Lodge Restaurant is locally known for having some of the best food in town.
Robin's Restaurant: Robin's Restaurant serves up handcrafted global cuisine, international fare, and farmer's market fresh options. The outdoor garden seating area is dog-friendly. Voted several times as "Best North Coast Restaurant" by the San Luis Obispo New Times "Best of SLO County" reader's poll this local restaurant is a must-try. Robin's does all to ensure guests have a remarkable experience.
3. Sightseeing
Moonstone Beach Boardwalk: Although the beach doesn't allow dogs, your furry pal is welcome to walk with you on the stunning 1-mile Moonstone Beach Boardwalk. Wander the boardwalk and capture unforgettable ocean views with your best friend.
Fiscalini Ranch Preserve: The Fiscalini Ranch Preserve offers miles of walking trails, featuring dramatic coastline, coastal prairie, seasonal wetlands, and majestic pine and oak forests, perfect for bringing Fido along for a hike!
A California Coastal adventure isn't complete without your furry friend tagging along. Now, between lodging, dining and adventuring we've got your trip covered! Don't forget to also check out the Cambria Dog Park to meet fellow canines in an off-leash area just off Main Street!