Things to Do in Silverton This Winter
Plan a Winter Getaway Today!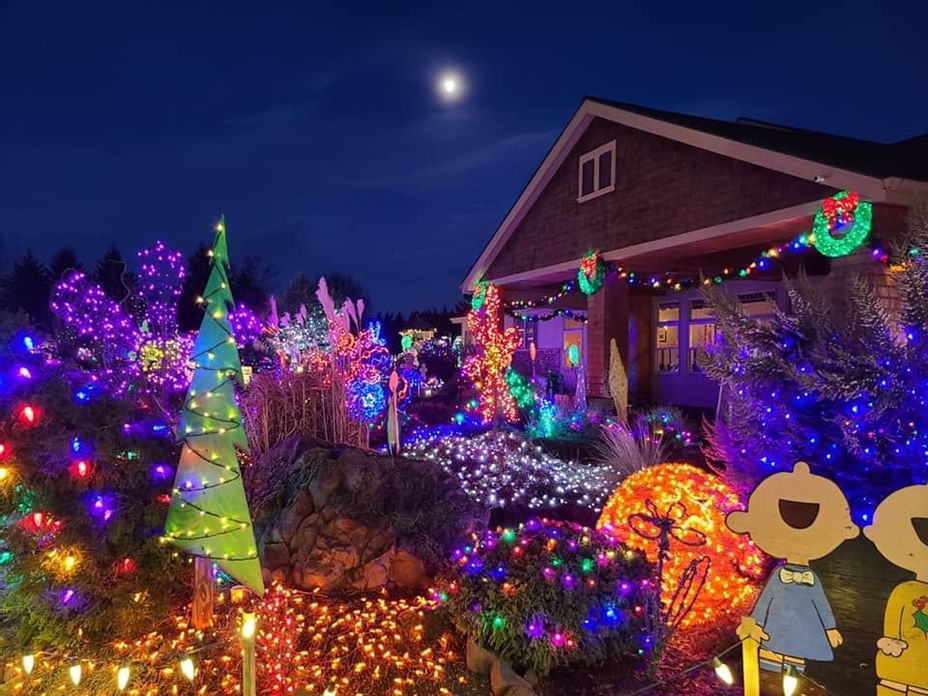 Let's get festive this winter in Silverton! Plan a winter getaway to Oregon and make a stop in the cute and quaint town of Silverton. Just an hour south of Portland, this historic town features boutique shops, enchanting waterfall hikes, historic attractions, gorgeous gardens and we can't forget about the delicious craft beers from Silver Falls Brewery and Ratchet Brewing! This small town makes for the perfect vacation this winter, check out some of our favorite activities to enjoy:
Gaze Upon Over a Million Lights at the Silverton Christmas Market. Christmas arrives early to Silverton with the joyous Silverton Christmas Market, open Nov. 26th - Jan. 9th. If you can only make it to one holiday event this year, the Silverton Christmas Market is the one you need to experience. Picture yourself strolling through an authentic German Christmas Market draped in more than a million lights - truly that Hallmark moment you've been waiting for. This iconic holiday light display not only features a million dazzling lights but also visits from Santa, cozy fire pits, delicious festive food, hot cocoa to keep you snug (or gluhwein for adults), a snowless tubing hill, and an authentic German Christmas Market with imported German goods and handcrafted items from local artisans. Tickets and overnight packages for the Silverton Christmas Market are on sale now and weekends are already booking up!
Listen to Live Music at the Oregon Garden Resort's Fireside Lounge. After a festive evening at the traditional light display, head on over to the Fireside Lounge for a nightcap! Warm up next to the central fireplace and get cozy on the couches while enjoying live music from local artists. A comfortable evening isn't complete without steamy adult beverages! The Fireside Lounge is open to hotel guests and the public every day.
Bundle Up and Hit the Trails at Silver Falls State Park. Who says hiking is just for summer? In Oregon, we hike all year round! Lace up your hiking boots, pack your coziest jacket, and head to the famous Silver Falls State Park for a winter hike. Due to the continuous downpour we Oregonians experience, the waterfalls are quite impressive this time of year! While hiking this trail you'll come across a whole cluster of falls, don't forget to snap a photo of them cascading down. The greatest gift hiking in the winter gives? Fewer crowds, quiet scenery and stunning seasonal views. Now that's something to add to your wishlist!
Tour the Frank Lloyd Wright Gordon House. The Gordon House is Frank Lloyd Wright's only design open to the public in the Pacific Northwest! This winter, experience a guided tour of the home. Even if you aren't an architectural buff, you'll feel the house's rich history as you move through each room, learn more about how an Oregon farm family commissioned Mr. Wright to design their home, the theories and practices of Wright's architecture, the near destruction of the home in 2000, and the effort to rescue and reconstruct the house in historic Silverton. Consider purchasing items from their Online Store for your friends or family members this holiday season!
*Pro Tip: If you are staying at the Oregon Garden Resort, ask us about our discount code for 25% off tour admission.
Purchase local goods from the Silverton Farmers Market. Located at Friends Church/Community Roots School on Eureka Avenue is the year-round Silverton Farmers Market. Get some holiday goodies from local businesses, including homemade candy, delicious baked goods, houseplants, candles, soaps, CBD products, and fresh local produce. These products make for a perfect gift for your friends or family, plus you are supporting small businesses! We love shopping local during the holiday season.

Who else is excited to visit Silverton this season? These activities are a great way to cheer up your winter and get in the holiday spirit. Start planning a winter getaway to Silverton today and stay at the Oregon Garden Resort to experience the magic of Christmas with the Silverton Christmas Market package.