Top 5 Destinations off the Beaten Path in Oregon
Skip the Crowds and #ExploreOregon!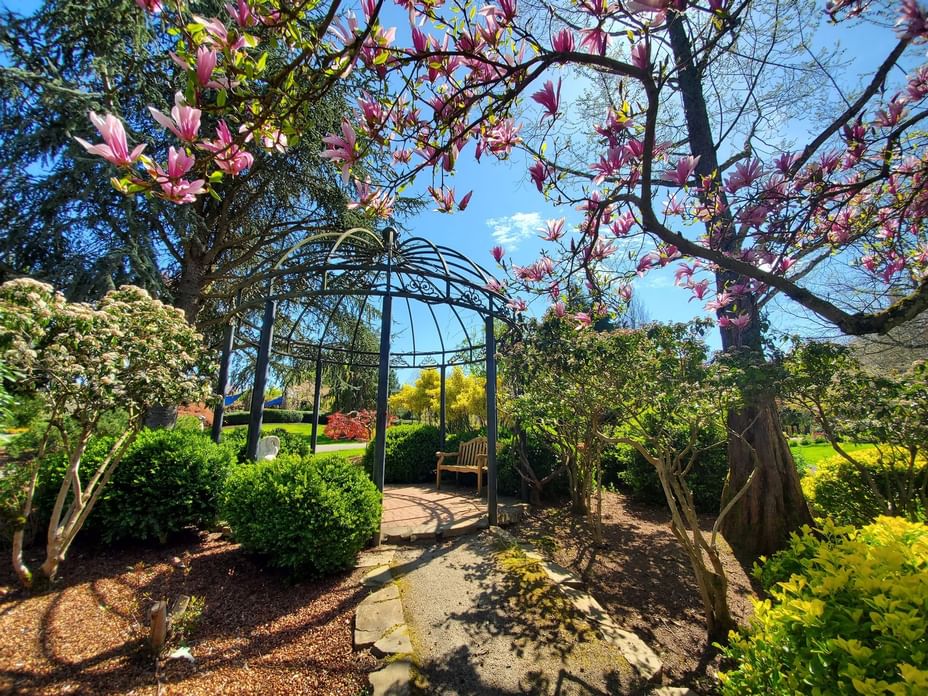 Summer is approaching and it's the perfect season to head to the beautiful state of Oregon! While we can't guarantee sunshine all summer long, it's definitely worth a trip to "The Beaver State". Rather than spending a week in the city or at the coast, venture off the beaten path and enjoy some of our favorite uncrowded destinations.
The Oregon Garden - The Oregon Garden is a stunning, 80-acre botanical garden, featuring more than 20 specialty gardens showcasing the diverse botanical beauty of the Pacific Northwest. This is a great starting point for your summer Oregon adventure, especially if you spend the night at the Oregon Garden Resort, which offers an array of amenities. Highlights include a day spa (to relax after your outdoor adventure) and live music in the Fireside Lounge. Also happening at the Resort is Summer Sessions at The Shed. Enjoy a summer evening filled with food, drinks, and music from regional artists!
Belknap Hot Springs - Belknap Hot Springs is located on the McKenzie River, which is one of Central Oregon's hidden jewels. The springs are open 365 days of the year with two mineral hot spring pools and many acres of gardens, including the extravagant Secret Garden! Belknap offers a very relaxing experience that you totally deserve. If you aren't looking for just a day trip, you can choose to stay overnight too. They have lodge rooms, cabins, RV sites, and tent sites. Reservations are highly recommended as they do book out in advance. Belknap is a great place to experience relaxation, whether you've been to many hot springs or it's your first time!
Diamond Creek Falls - Diamond Creek Falls is located in the Cascade Mountains near Oakridge. Your steep hike down is rewarded with a close-up experience of the waterfall! This trail is only a 3.2-mile loop and is perfect for beginners or experienced hikers. We suggest visiting during the week to ditch the weekend crowds. Trust us when we say this is one of the best waterfalls in Oregon- which is saying a lot because there are a ton!
Painted Hills - In Eastern Oregon at the John Day Fossil Beds National Monument you'll find the dubbed "7 Wonders of Oregon" - the Painted Hills! You'll find yourself breathless as you gaze upon the yellow, gold, and red-colored hills. We suggest planning a visit during the week as weekends can get crowded. Also, keep in mind that there's no water available, so stay hydrated. Pro tip: bring a picnic to enjoy while viewing the Painted Hills. Just remember to clean up after yourself to preserve the beauty and don't forget to bring a camera to capture once-in-a-lifetime photos!
Sea Lion Caves - Along the Pacific coast, just north of Florence you'll find the Sea Lion Caves. The connected system of caverns is where northern sea lions gather every spring and summer to breed. Even if you miss the sea lions it's still a spectacular place to check off your list! Fun fact: Sea Lion Caves is America's largest sea cave! You'll leave Oregon with an intimate perspective of the life of Sea Lions.
So head off the beaten path this summer in Oregon! There's plenty to do outdoors and you can skip the crowds! Consider staying at our Oregon hotel, the Oregon Garden Resort. You can save 15% on select nights using the special code SAVER, valid until August 31st.