German Christmas Market Traditions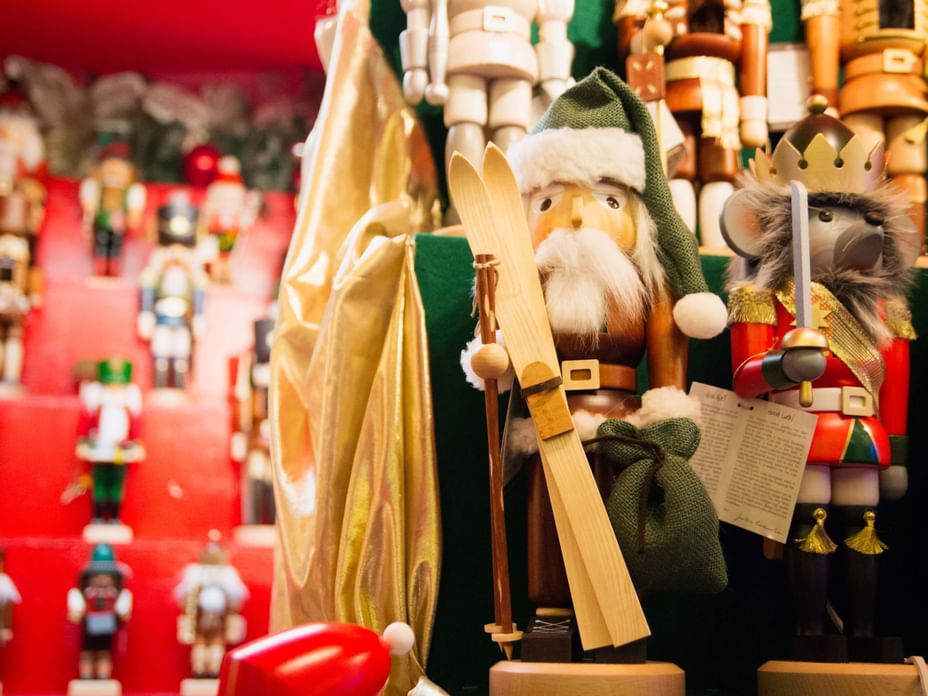 Did you know that our Christmas Markets are inspired by those held in Germany each winter? Our company has strong German ties and a passion for Christmas, and our Christmas Markets are the perfect way to share those traditions and holiday cheer with you! We hope you enjoy yourselves, make memories and start a new Christmas tradition with us. At the Oregon Garden Resort, you'll be immersed in the holiday spirit and more than a million lights at the Silverton Christmas Market. And at Cambria Pines Lodge, you'll enter a winter wonderland featuring two million lights and a world-class market at Cambria Christmas Market.
Here are the German Christmas traditions we've brought back to the States for you to enjoy:
Christmas Markets: In many towns in Germany and Austria, the holiday season is opened with the traditional Christmas Market or Weihnachtsmarkt. Generally held near the town square, the market sells food, drink, and seasonal items from open-air stalls, accompanied by traditional singing and dancing. We love the festive spirit Christmas Markets bring to the community!
Krampus: December 5th is known as Krampusnacht, or Krampus Night, the night before St. Nicholas Day. In contrast to St. Nicholas rewarding children with sweets on December 6th, Krampus swats "wicked" children and takes them away to his lair. You can catch a glimpse of Krampus at our Markets.
Gluhwein: Gluhwein is a traditional German mulled wine combined with spices, red wine and citrus fruits. It's served warm and sold at German Christmas Markets, a perfect beverage to keep you warm during the winter. Enjoy your own cup of gluhwein from one of our booths.
Gingerbread Hearts: Lebkuchen is a traditional German cookie usually baked for Christmas. It is a gingerbread cookie, made with molasses and full of warm spices. These round or heart-shaped cookies can be found at Christmas Markets often hanging from market stalls. People put the cookies around their necks and display the endearing and humorous messages written in icing. Get your own lebkuchen at our sweets booth.
Roasted Nuts: Roasted nuts are a German specialty that can be found at every Christmas Market. Germany is one of the largest producers of nuts in Europe and is widely celebrated throughout the country. Since the 2000s, the Palatinate region in Germany has hosted a month-long celebration of the nut! During the holiday season, many almonds, chestnuts and cashews are enjoyed by thousands of people throughout the area. Get your own bag of roasted nuts at our events.
Christmas Market Mugs: Most German Christmas Markets serve their drinks out of a Christmas-themed mug. You'll purchase the drink and pay a mug deposit. After you finish your drink, you can return the mug to get your deposit back or take it home as a souvenir. Take home a commemorative Christmas mug of your own from our Markets.
Incense Smokers: Many years ago, the Erzgebirge Mountains in Germany were mined for gold, tin ore and other minerals. The people working in the mines during the day would often be found crafting wooden toy figurines at night. Smokers became something the miners made. They usually resembled figurines of the people that lived and worked there, such as mailmen, fishermen, shepherds and even the village people themselves. The smokers are used to burn incense, which has historically been used during important events to ward off evil spirits. Authentic German Smokers are available for sale inside our Christmas Market.
We hope you'll be able to make it to one of our Christmas Markets this upcoming season and experience a traditional German Christmas Market! You'll feel like you were transported to Germany while staying local. Enjoy the lights, warm up around a fire, sip holiday drinks and create new memories with your friends and family this winter.