Place to Stop on an I-5 Road Trip
Must-Stop Spots in Oregon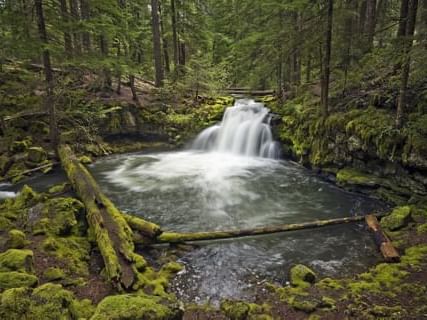 Oh the dreaded endless strip of I-5. Road trips can feel never-ending, but don't worry we have you covered! Here is a list of stops you can make the next time you are headed north on I-5 in Oregon, to make your trip a little bit more bearable.
The Oregon Vortex/House of Mystery - Gold Hill, OR
No need to be scared! Despite the scary name, this is a fun activity for the whole family. Whether you are a physics junky or not, you will enjoy this "vortex" that causes the laws of physics to seem irrelevant. Plus, they have a fun gift shop full of little oddities!
Umpqua National Forest - Oregon
The perfect way to stretch your legs on a road trip is taking a little stroll surrounded by breathtaking natural beauty. This massive woodland preserve is packed with shaded trails, fields of wildflowers, misty waterfalls, and cozy cabins. Even taking a quick detour to drive through this beautiful forest is a must!
Blairally Vintage Arcade - Eugene, OR
This part dive bar, part hands-on museum is dedicated to the most beloved arcade games of the past, and 100% retro fun. Cheap beers and free pinball make this place the perfect place to spend a few hours, which might turn into the whole night. If you do end up wanting to spend the night, just twenty minutes south of this spot is The Village Green.
Brass Ring Carousel Project - Albany, OR
Whether you are young, or just young at heart this free activity and museum is a great way to break up a road trip! Their dedication to preserving this beautiful carousel is really neat to see.
If you are heading up north on I-5 anytime soon, you are in for a treat because not only is there the above-mentioned fun activities, there is also endless pacific northwest scenery for you to bask in and enjoy. With this list in your back pocket, you won't have anyone in the back seat saying "Are we there yet?"