Where to Find the Best Wine in Paso Robles & Cambria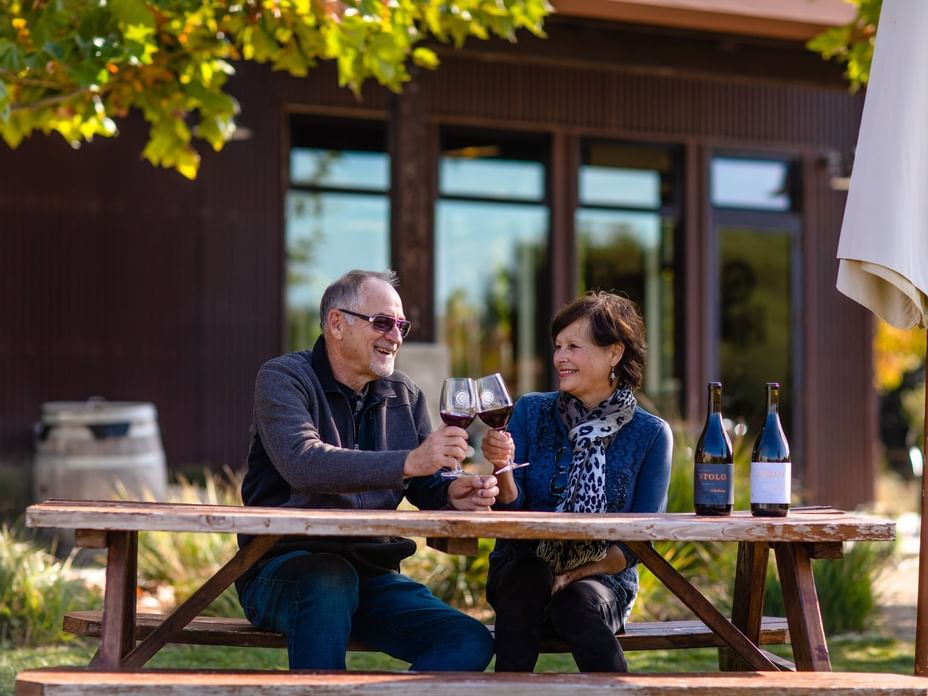 A visit to Cambria, California isn't complete without sippin' on local wines and the Central Coast has a ton of delicious vino to discover! Here is where you can find the best wine in Paso Robles and Cambria, CA:
Stolo Vineyards & Winery: Discover estate-grown Pinot Noir, Syrah, Chardonnay, Sauvignon Blanc, and Gewürztraminer at this comfortably modern winery. Plus, if you're traveling with your pup, you can enjoy a bottle in their gorgeous pet-friendly meadow area! Stolo is offering tastings by appointment only.
Moonstone Cellars: This tasting room proudly creates its wines from Central Coast grapes. Moonstone Cellars offers a wide variety of, well, varietals! From a lighter style Grenache to a full-bodied Zinfandel and Cabernet Sauvignon, there will be something for everyone's tastes. They also occasionally offer a rare treat - port-style wine! Moonstone Cellars is on a first-come, first-serve basis.
Cutruzzola Vineyards: Enjoy award-winning wines from the cutest boutique vineyard in Cambria! You'll love the cool ocean breezes as you sip their special Rieslings and Pinot Noirs. Reservations are required at Cutruzzola Vineyards.
DAOU Vineyards: Explore the latest and most prestigious wines from one of our favorite vineyards: DAOU! The exceptional panoramic mountain top views paired with curated tastings and culinary pairings are simply a scene from the most romantic movie you've ever seen. Reservations are recommended.
Laetitia Vineyards & Winery: Originally known for sparkling wines, Laetitia has produced seven unique sparkling wines that you have to try! Plus, the coastal property overlooks the Pacific Ocean making it the perfect setting for a great day in Wine Country. Reservations are required at Laetitia.
J. Lohr Vineyards: Savor a variety of Cabernet, Chardonnay, Riesling, and Pinot Noirs at this vineyard in Paso Robles. J. Lohr farms over 2,700 acres of vineyards and is now recognized as one of the world's best spots for Cabernet Sauvignon! J. Lohr crafts wines showcasing bold, concentrated flavors.
BONUS: Moonstone Hotel Properties House Wine! Not feeling up for wine country and want to relax in the comfort of your own lodging? Grab a bottle of our house wine! Available at the Sea Otter Inn, J. Patrick House & Inn, and Cambria Pines Lodge while supplies last.
Next time you visit Cambria be sure to check out these great wine options and discover more on your own! If you are planning a getaway consider staying at our unique properties in Cambria.